Used Tire Removal
Landfill sites are overflowing in every part of the country, and because we are a throwaway society, we don't really help the situation. Used tires are one of the worst contributors to landfill sites, and as such, the landfill sites are putting restrictions on the volume of tires they accept. It's also not uncommon for consumers to get taxed when buying old tires and then disposing of the old ones. At the same time, the recycling of tires has become more and more common, with recycled material being used in asphalt, rubber-based products, even shoes.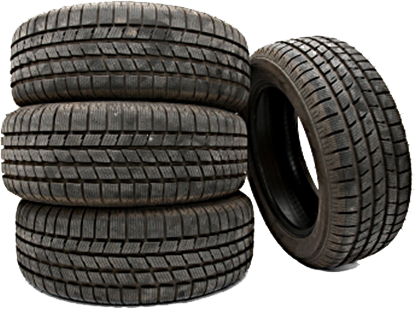 One of our specialties at Gold Disposal Waste & Recycling is the removal and recycling of used tires. We handle all kinds of tires - small bike tires - conventional vehicle tires - and large industrial equipment tires. If we can move them, then we'll haul them away. We'll give you the best possible price on the market, and more often than not, one price will cover it all. Customers can choose to receive an onsite quotation, or can easily access an accurate quote online. Pickup bookings can also be set up online, with a discount available at time of booking.
Once booked, our used tire removal service is quite comprehensive - we pick up the load of used tires, we properly clean up the service area, and we continue with the proper recycling and disposal process. Most importantly, the collection of used tires stops additional waste from going to the landfill. Gold Disposal services all kinds of customers, including residential, commercial and industrial clients. And regardless of load size, our customers can depend on prompt pick-ups, the most competitive pricing, and the responsible handling of used tires.
Gold Disposal is well established in the Greater Toronto Area (GTA), and provides a variety of waste disposal services in communities throughout southwestern Ontario. We specialize in tire collection, removal and recycling – our people work safely and efficiently; we manage an eco-friendly operation; and we offer a stress-free experience from the moment we arrive at the work site. You just point us to the load of rubber tires, and we'll do all the "dirty work". Simply put, our service approach is focused on providing customer satisfaction.
The service teams at Gold Disposal are professional in their manner and experienced in their work performance. They are well trained, bonded and insured – it's a combination intended to benefit both client and company. Long term, we believe in building business relationships that are lasting, and we often welcome new customers who arrive through client referrals. Finally, we want our tire recycling to contribute to a better environment - we divert used tires from landfill sites and we potentiate the manufacture of new rubber-based products.
Used tire recycling is a win-win scenario for both the environment and the economy. It's a civic responsibility for every consumer, and it's an economic incentive for recyclers. Bottom line, it's a formula for reducing waste while promoting reprocessing and remanufacture. For Gold Disposal, we look at it as our business and our responsibility.